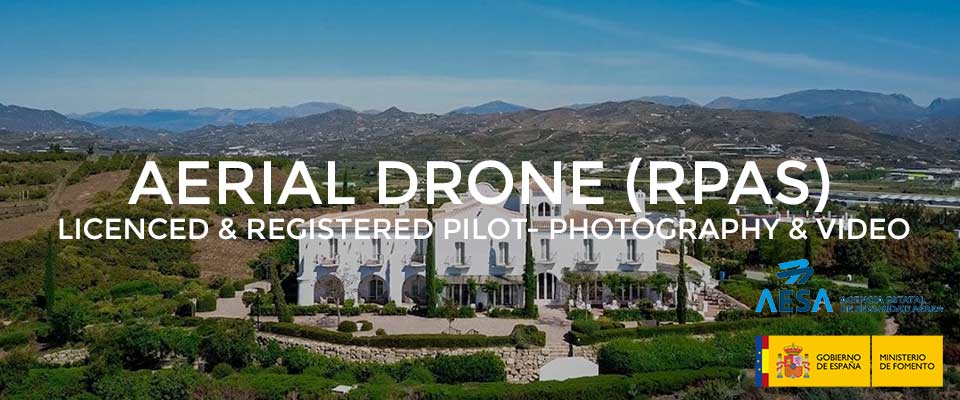 Aerial Drone Photography and Video Production Service
Licensed by AESA to perform commercial aerial videos, as a drone operator With official advanced certificate to fly Unmanned Aerial Vehicle (UAV), we make commercial aerial filming as drone operator company, complying with the current air regulations approved by the Spanish Aviation Safety and Security Agency (AESA). Please allow a minimum of 8 days between booking and filming due to AESA authorisation requirements for flight restricted areas in Spain.
Reaching new heights since December 2012 Gary has been offering real estate agents a new perspective on property drone photography along the Costa Del Sol, Spain. Affordable drone aerial photography and HD aerial video for commercial and residential real estate. We can produce personal or business based aerial photography, or videography for real estate, music video, movie or commercial use.
Gary has been using drone photography to capture aerial photography at multiple angles of properties for agents wanting to give clients an elevated to get that extra edge to promote your clients property or to promote a development project. For commercial and residential don't be limited to ground based photographs. Draw interest by providing a aerial views using oblique angles or an overhead view to showcase the entire property. Give a tour using video without being limited to ground level.
In most cases, it takes less than 15 minutes to photograph a property at a remarkable 360 degrees. Additionally, with our photo enhancing services, colors pop and buildings practically jump out to invite guests.
The eight-propeller drone is fitted with a profession hi-resolution stills and video camera.
We also shoot aerial video for weddings too; giving our couples a Hollywood style cinematic dimension to their wedding videos
With the weather conditions perfect (less than 10Km/ph wind and no rain) the drone is flown by remote control and is installed with a GPS tracking device for homing navigation. Permission from the Civil Aviation Authority to use them up an elevation of 150 meters but we only needed to use the photo/video drone to around 50 meters.
For more information about this exciting and very affordable aerial drone photography & videography service don't hesitate to contact me below or by using the WhatsApp icon below..