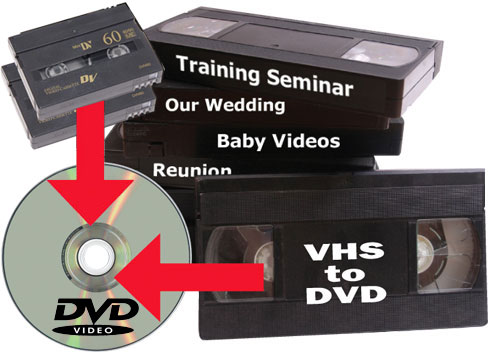 We can transfer Your Own Home or Wedding Video Movies to DVD or video file
Your wedding memories are precious. At Convert VHS to DVD, we want to make sure that your wedding videos are preserved. While this might not be a video that you watch often, the idea of it being gone forever sounds horrible. This is exactly why we started Manage Your Memories and Convert VHS to DVD. Your memories are too precious to be destroyed. We can convert your Wedding VHS or Hi-8mm tape to DVD and add photos and anything else that you can think of. Here are a few ways that we can make your wedding memories last.
We can take your one wedding VHS tape or Hi-8mm video and convert it to one DVD as a part of our basic package.
Or we can take several wedding VHS or 8mm tapes and combine them into one Wedding DVD with a special navigation memu.
These are just a few options, whatever your Wedding video converting needs, please let us know what you are looking for and we will do everything we can to help.
If you have Video Tapes of a Wedding or other Celebrations and Events or Episodes of your favourite TV Programmes and would like to keep it or give it to a friend, then we can help.
Add Titles and Music of your own choice.
Create a Professional edited version of your un-edited Video Tapes.
Your Final Produced Video can be on VHS, S-VHS, Hi-8mm, DV Digital Tape or DVD in Standard 4:3 Format or in Widescreen Format.
Just let us have your Video Tapes, Music Material, Photo Material for us to transfer to our System and we will return them directly back to you. Then we can create your Video, Audio or Photo Production to your exact needs.